The 2019 cruise ship expo, the first event in the world that focuses exclusively on interior design, architecture and outfitting for the cruise industry, took place at the Miami Convention Center on June 19-20, 2019.
The Miami Beach Convention Centre had an impressive attendance on both days and all the major cruise lines were present.
It was an unforgettable experience.
Floral Arrangements
Booths were packed with some colorful display of floral arrangements and other designs from more than two hundred marine interior suppliers, with each and everyone vying to be a showstopper.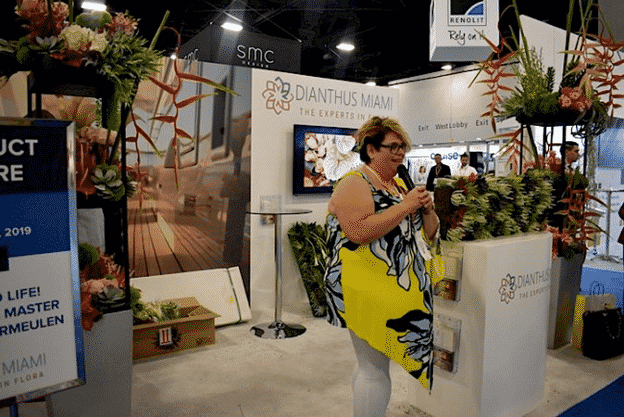 Of course, Dianthus Miami was present with some impressive floral products display. And, we are pleased to say that our floral décor was a showstopper! Kudos to our brand's Dutch master florist who did a live product demo that was well attended.
Other Designers
Apart from floral designs, designers like JC Hospitality was a show stopper with their "naval-inspired furnishings," Framework with its digitally printed fish, and Eumar Design showcased a unique washbasin with "selfie mirror."
Guest Speakers
While the designers were outstanding, the 2019 cruise ship expo also featured some inspirational speakers. Some of the key topics covered were interior design trends, sustainability in design and operations, and color. Speaker, Javier Calle from DADO's reminded interior designers that they should make sure that brands are designed each time they evolve, while Renee Hytry Derrington from Endless Boundaries explained that cruise ship guests are searching for ways to connect to nature.
Final Thoughts
Overall, the expo reveals that the interior design community is talented and that we are enthusiastic about our craft. The next cruise ship expo will be in 2020 and we are looking forward to bring some more unique and tasteful floral display to our marine guests.